On behalf of the Organizing Committee of The 19th Shanghai International Conference on Plastic & Aesthetic Surgery and the 9th Forum on Plastic & Aesthetic Surgery in Shanghai from March 20-22,2020, it's my pleasure to invite you to join the meeting.

The Conference will be sponsered by Zhang Di-Sheng's (Ti-sheng Chang)Plastic Surgery Development Foundation and co-organized by Shanghai Ninth People's Hospital and will be held in the Shanghai International Convention Center. The Conference will focus on the newly development of craniofacial surgery, hand and foot surgery, oculoplastic surgery, rhinoplasty, ear reconstruction, wound repair, minimal invasive surgery, Liposuction and lipo-transfer, mammoplasty surgery , facial paralysis repair, vascular anomalies, lymphedema, hair restoration and hair Care, and laser techniques,and others.

The Conference was initiated by Prof. Ti-Sheng Chang, past academician of Chinese Academy of Engineering. It has been held annually for consecutive 19 years. Ti-Sheng Chang was the founder and pioneer of China's plastic and reconstructive surgery and had made great achievements to broad spectrum of medical fields in his whole life. The Conference is the most authoritative and the biggest event in plastic surgery field in China and attracts over 2000 plastic surgeons to attend every year. Looking forward to meeting you in Shanghai.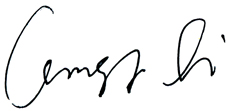 With kindest regards,

Prof.Qingfeng Li
Chairman of the Conference
Chief,Department of Plastic and Reconstructive Surgery,Ninth People's Hospital,
Shanghai Jiao-tong University School of Medicine